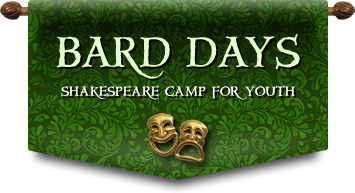 BUT WILLST BE FUN?
You don't have to take our word for it.
Here's what past participants had to say…
"Shakespeare rules!"
"I really loved Bard Days, I want to do it again!"
"This was my favorite camp ever!"
"I learned a lot. The instructors took time
to answer all my questions."
PARENTS LOVE BARD DAYS TOO!
"The commitment and caring you give the students
shows and truly touches the kids and their families.
Bard Days is truly one of the outstanding youth
art events available anywhere, by any standard."
Verily then, we hope
to seest thou there!
Bard Days:
Shakespeare Camp for Youth
August 1-8, 2016, The Great Northern Amphitheatre
The Montana Shakespeare Company presents Bard Days, a dynamic Shakespeare camp for youth entering grades 3-12 (ages 8-18), which celebrates and brings to life the words and world of William Shakespeare. Bard Days takes a bit of culture and makes it a whole lot of fun with this user-friendly introduction to Will's world.
Using an interdisciplinary arts approach, morning classes (9am-noon) are designed to eliminate "Shakes-fear" in a participatory and fun way. Workshops challenge and engage students with performance, literary and cultural activities, including:
Stage Combat
Elizabethan Olympics
The Language of the Bard
Searching for Shakespeare
and much more!
Students may continue with additional afternoon classes (1-4pm) that have a special emphasis on Acting & Speaking Shakespeare. Participants receive instruction on classical acting technique and its direct application in rehearsed scene-work. The program concludes with a shared evening of works at A Bard Day's Night.
With over 45 years combined experience in teaching youth theatre, Bard Days classes will be conducted by MSC's Artistic Director, Kim DeLong, and Managing Director, Martha Sprague, along with classically trained professionals from across the country joining our acting company this summer.
For additional information please call Martha Sprague at (406) 459-4386, or email us.