Be a Part of Our Garden
Pansies
are for thoughts
$1+
Rosemary
remembrance
$50+
Lavender
vitality
$100+
Violets
faithfulness
$250+
Carnation
respect
$500+
Honeysuckle
affection
$1,000+
Iris
good wishes
$2,500+
Lily
dignity, nobility
$5,000+
Rose
beauty, love
$10,000+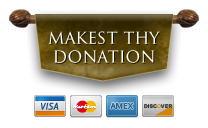 "I can no other answer make
but thanks, and thanks"
(Twelfth Night)
In Our Garden
The Montana Shakespeare Company is growing a garden of support and we invite you to help MSC contribute to Helena's cultural landscape. A financial contribution to MSC ensures your inclusion in our "Bard's Garden" of donors. The Montana Shakespeare Co. is a 501 (c) 3 organization. All contributions are greatly appreciated and are tax-deductible as allowed by law.
Thanks to Our Major Sponsors
"Up with my tent there! Let us survey the vantage of the field. Call for some men of sound direction. Let's make no delay, for tomorrow is a busy day." – Richard III
To Be, the Only Answer!
Be a Patron!
Join the Montana Shakespeare Company for an evening of romance and revelry!
Be A Sponsor!
MSC offers advertising and corporate sponsorships for your business as well as benefit performances with discounted tickets for organizations or events. Corporate Sponsorships offer businesses beneficial visibility opportunities in the community. For further information on these options please contact us.
Be a Host Family!
MSC is currently seeking approximately three Helena area families to host a company actor for the summer (June 16 -August 18). A homestay would include a bedroom and bath with cooking facilities also desirable. As a charitable non-profit organization, MSC can provide host families with a tax-deductible receipt for their contribution. For information please contact Kim or Martha at (406) 431-1154 or (406) 459-4385.
Be Behind the Scenes!
Volunteers are a vital and welcome part of our support! A variety of opportunities awaits: costuming, ticket and advertising sales, set construction. Interested persons should contact Kim DeLong. Thanks for your interest. We'd love to have you grow along with us!
Be in the Scenes!
Although our 2014 company is cast, MSC will expect to hire approximately 16 actors (5 female, 11 male) for 2015. Actors may submit video auditions of two contrasting classical monologues (of approximately 1-1/2 minutes each) along with headshot/resume and two references. Please submit by March 30, 2015 to: montanashakespeare@gmail.com
Links to your audition sites may be provided in lieu of forwarding them to us.
Next live auditions in Helena for MSC's acting company will be in March 2015.
Traditional headshot and resume (with two references) may also be forwarded to:
Montana Shakespeare Company
6137 Moondance Rd.
Helena, MT 59601
Thank you for your interest.
Our Thanks To All Our Supporters
"I can no other answer make but thanks, and thanks" (Twelfth Night)
Contact Us
Montana Shakespeare Company
6137 Moondance Rd.
Helena, MT 59601
(406)459-4385