Summer 2015
Play tickets for adults are $20 each and students are $15 each. Tickets can be purchased online or at the door. Tickets ordered online will not be mailed out, but can be picked up at the door. High school and college students please present your student IDs when picking up your tickets.
Twelfth Night
Orsino, the Duke of lllyria, is in love with his neighbour, the Countess Olivia. She has sworn to avoid men's company for seven years while she mourns the death of her brother, so rejects him. Nearby a group of sailors arrive on shore with a young woman, Viola, who has survived a shipwreck in a storm at sea. Viola mourns the loss of her twin brother but decides to dress as a boy to get work as a page to Duke Orsino.
Despite his rejection Orsino sends his new page Cesario (Viola in disguise) to woo Olivia on his behalf. Viola goes unwillingly as she has already fallen in love at first sight with the duke. Olivia is attracted by the 'boy' and she sends her pompous steward, Malvolio, after him with a ring.
Olivia's uncle, Sir Toby Belch, her servant Maria, and Sir Toby's friend, Sir Andrew Aguecheek, who is also hoping to woo Olivia, and is being led on by Sir Toby, who is trying to fleece him of his money, all plot to expose the self-love of Malvolio. By means of a false letter they trick him into thinking his mistress Olivia loves him. Malvolio appears in yellow stockings and crossgarters, smiling as they have told him to in the letter. Unaware of the trick the Countess is horrified and has Malvolio shut up in the dark as a madman.
Meanwhile Viola's twin brother, Sebastian, who has also survived the shipwreck, comes to Illyria. His sea-captain friend, Antonio, is a wanted man for piracy against Orsino. The resemblance between Cesario and Sebastian leads the jealous Sir Andrew to challenge Cesario to a duel. Antonio intervenes to defend Cesario whom he thinks is his friend Sebastian, and is arrested. Olivia has in the meantime met and become betrothed to Sebastian.
Cesario is accused of deserting both Antonio and Olivia when the real Sebastianarrives to apologise for fighting Sir Toby. Seeing both twins together, all is revealed to Olivia. Orsino's fool, Feste, brings a letter from Malvolio and on his release the conspirators confess to having written the false letter. Malvolio departs promising revenge. Maria and Sir Toby have married in celebration of the success of their device against the steward.
The play ends as Orsino welcomes Olivia and Sebastian and, realising his own attraction to Cesario, he promises that once she is dressed as a woman again they, too, will be married.
The Three Musketeers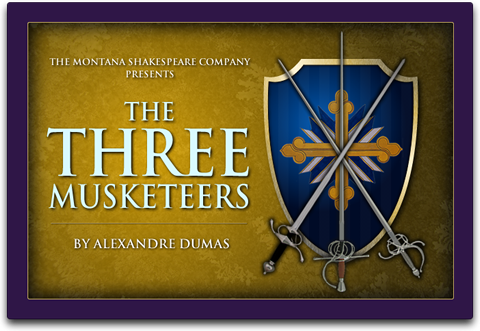 D'Artagnan, a noble but poor young man from Gascony (South France), leaves for Paris in 1625 with an invitation from his father to become a Musketeer of the royal guard of Louis XIII. During his journey, D'Artagnan engages in a duel with an unknown man, gets knocked unconscious, and loses the letter from his father, which will cause the rejection of his application to the Musketeers.
When d'Artagnan arrives in Paris, he spots the man he dueled and begins to pursue him. Along the way he manages to separately offend three musketeers, challenging each of them to a duel. When the time comes to face them, the guards of Cardinal Richelieu try to arrest the four duelers, but the outnumbered quartet manages to beat them. Astounded by the bravery and skill of the youthful d'Artagnan, the trio of musketeers rapidly befriend him. Their names are Athos, Porthos, and Aramis, and they turn out to be three of the most distinguished members of the Royal Guard.
D'Artagnan soon finds himself involved in the intrigues of the court. Cardinal Richelieu wants to start a war between France and England with a clever plot. He knows the Queen Consort, Anne, is having an affair with the Duke of Buckingham, who has received from her the diamonds that King Louis XIII presented her as a gift. Richelieu organises an event to which the Queen will be expected to wear the diamonds, and their absence will uncover her affair with Buckingham.
Queen Anne's assistant, Constance, is also d'Artagnan's landlord's wife, and d'Artagnan has fallen in love with her. Through her, he learns of the Queen's troubles, and he decides rally his three Musketeer friends to help her out. They must travel at desperate speed to England in order to recover the set of diamonds, facing the Cardinal's men numerous times along the way. They also have to face the ploys of Milady de Winter, one of Richelieu's main allies, and are able to succeed only at the last minute. The Queen is saved and D'Artagnan fullfils his dream of becoming a Musketeer.