Summer 2016
This summer, MSC returns to the Great Northern Town Center Amphitheater.
Play tickets for adults are $20 each and students are $15 each. Tickets can be purchased online or at the door. Tickets ordered online will not be mailed out, but can be picked up at the door. High school and college students please present your student IDs when picking up your tickets.
KING LEAR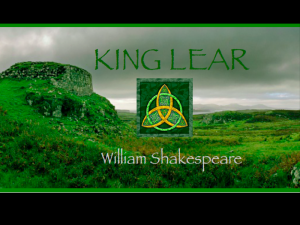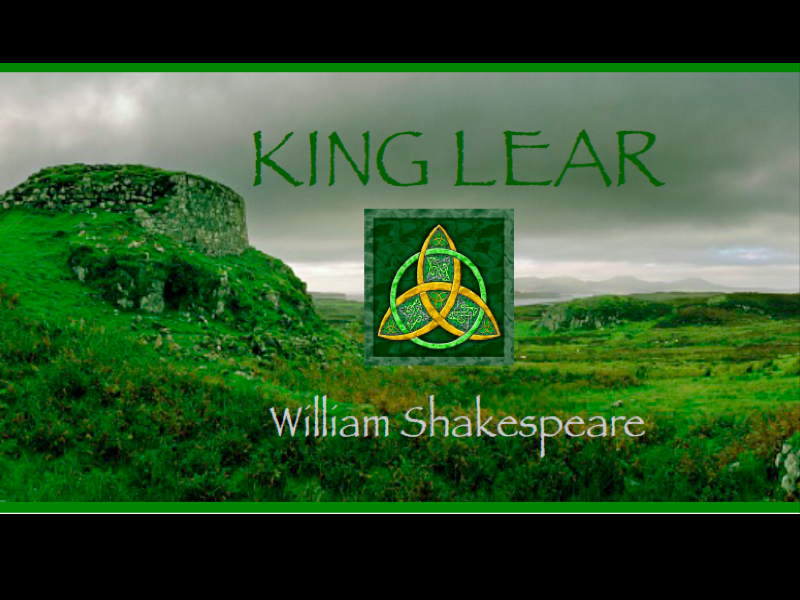 by William Shakespeare
July 28 – August 14


King Lear of Britain, elderly and wanting to retire from the duties of the monarchy, decides to divide his realm among his three daughters, and declares he'll offer the largest share to the one who loves him most. The eldest, Goneril, speaks first, declaring her love for her father in fulsome terms. Moved by her flattery Lear proceeds to grant to Goneril her share as soon as she's finished her declaration, before Regan and Cordelia have a chance to speak. He then awards to Regan her share as soon as she has spoken. When it is finally the turn of his youngest daughter, Cordelia, at first she refuses to say anything ("Nothing, my Lord") and then declares there is nothing to compare her love to, nor words to properly express it; she speaks honestly but bluntly, which infuriates him. In his anger he disinherits Cordelia and divides her share between Regan and Goneril.
The Earl of Gloucester and the Earl of Kent observe that, by dividing his realm between Goneril and Regan, Lear has awarded his realm in equal shares to the peerages of the Duke of Albany (Goneril's husband) and the Duke of Cornwall (Regan's husband). Kent objects to Lear's unfair treatment of Cordelia; enraged by Kent's protests, Lear banishes him from the country. Lear then summons the Duke of Burgundy and the King of France, who have both proposed marriage to Cordelia. Learning that Cordelia has been disinherited, the Duke of Burgundy withdraws his suit, but the King of France is impressed by her honesty and marries her nonetheless. Meanwhile, Gloucester has introduced his illegitimate son Edmund to Kent.
Lear announces he will live alternately with Goneril and Regan, and their husbands. He reserves to himself a retinue of one hundred knights, to be supported by his daughters. Goneril and Regan speak privately, revealing that their declarations of love were fake, and that they view Lear as a foolish, old man.
Edmund resents his illegitimate status, and plots to dispose of his legitimate older brother Edgar. He tricks their father Gloucester with a forged letter, making him think Edgar plans to usurp the estate. Kent returns from exile in disguise under the name of Caius, and Lear hires him as a servant. Lear and Caius quarrel with Oswald, Goneril's steward. Lear discovers that now that Goneril has power, she no longer respects him. She orders him to behave better and reduces his retinue. Enraged, Lear departs for Regan's home. The Fool mocks Lear's misfortune.
Edmund learns from Curan, a courtier, that there is likely to be war between Albany and Cornwall, and that Regan and Cornwall are to arrive at Gloucester's house that evening. Taking advantage of the arrival of the duke and Regan, Edmund fakes an attack by Edgar, and Gloucester is completely taken in. He disinherits Edgar and proclaims him an outlaw.
Bearing Lear's message to Regan, Caius meets Oswald again at Gloucester's home, quarrels with him again, and is put in the stocks by Regan and her husband Cornwall. When Lear arrives, he objects to the mistreatment of his messenger, but Regan is as dismissive of her father as Goneril was. Lear is enraged but impotent. Goneril arrives and supports Regan's argument against him. Lear yields completely to his rage. He rushes out into a storm to rant against his ungrateful daughters, accompanied by the mocking Fool. Kent later follows to protect him. Gloucester protests against Lear's mistreatment. With Lear's retinue of a hundred knights dissolved, the only companions he has left are his Fool and Caius. Wandering on the heath after the storm, Edgar meets Lear, in the guise of a madman named Tom o' Bedlam. Edgar babbles madly while Lear denounces his daughters. Kent leads them all to shelter.
Edmund betrays Gloucester to Cornwall, Regan and Goneril. He reveals evidence that his father knows of an impending French invasion designed to reinstate Lear to the throne; and in fact a French army has landed in Britain. Once Edmund leaves with Goneril to warn Albany about the invasion, Gloucester is arrested, and Regan and Cornwall gouge out Gloucester's eyes. As he is doing so, a servant is overcome with rage by what he is witnessing and attacks Cornwall, mortally wounding him. Regan kills the servant, and tells Gloucester that Edmund betrayed him; then she turns him out to wander the heath too. Edgar, in his madman's guise, meets his blinded father on the heath. Gloucester, not recognizing him, begs Tom to lead him to a cliff at Dover so that he may jump to his death.
Goneril discovers that she finds Edmund more attractive than her honest husband Albany, whom she regards as cowardly. Albany has developed a conscience — he is disgusted by the sisters' treatment of Lear, and the mutilation of Gloucester, and denounces his wife. Goneril sends Edmund back to Regan; receiving news of Cornwall's death, she fears her newly widowed sister may steal Edmund and sends him a letter through Oswald. By now alone with Lear, Kent leads him to the French army, which is commanded by Cordelia. But Lear is half-mad and terribly embarrassed by his earlier follies. At Regan's instigation, Albany joins his forces with hers against the French. Goneril's suspicions about Regan's motives are confirmed and returned, as Regan rightly guesses the meaning of her letter and declares to Oswald that she is a more appropriate match for Edmund. Edgar pretends to lead Gloucester to a cliff, then changes his voice and tells Gloucester he has miraculously survived a great fall. Lear appears, by now completely mad. He rants that the whole world is corrupt and runs off.
Oswald appears, still looking for Edmund. On Regan's orders, he tries to kill Gloucester but is killed by Edgar. In Oswald's pocket, Edgar finds Goneril's letter, in which she encourages Edmund to kill her husband and take her as his wife. Kent and Cordelia take charge of Lear, whose madness quickly passes. Regan, Goneril, Albany, and Edmund meet with their forces. Albany insists that they fight the French invaders but not harm Lear or Cordelia. The two sisters lust for Edmund, who has made promises to both. He considers the dilemma and plots the deaths of Albany, Lear, and Cordelia. Edgar gives Goneril's letter to Albany. The armies meet in battle, the British defeat the French, and Lear and Cordelia are captured. Edmund sends Lear and Cordelia off with secret-joint orders from him (representing Regan and her forces) and Goneril (representing Albany's) for the execution of Cordelia.
The victorious British leaders meet, and the recently widowed Regan now declares she will marry Edmund. But Albany exposes the intrigues of Edmund and Goneril and proclaims Edmund a traitor. Regan falls ill, having been poisoned by Goneril, and is escorted offstage, where she dies. Edmund defies Albany, who calls for a trial by combat. Edgar appears masked and in armor, and challenges Edmund to a duel. No one knows who he is. Edgar wounds Edmund fatally, though he does not die immediately. Albany confronts Goneril with the letter which was intended to be his death warrant; she flees in shame and rage. Edgar reveals himself, and reports that Gloucester died offstage from the shock and joy of learning that Edgar is alive, after Edgar revealed himself to his father.
Offstage, Goneril, with all her evil plans thwarted, commits suicide. The dying Edmund decides, though he admits it is against his own character, to try to save Lear and Cordelia; however, his confession comes too late. Soon after Albany sends men to countermand Edmund's orders, Lear enters bearing Cordelia's corpse in his arms, having survived by killing the executioner. Kent appears and Lear now recognizes him. Albany urges Lear to resume his throne, but like Gloucester, the trials Lear has been through have finally overwhelmed him, and he dies. Albany then asks Kent and Edgar to take charge of the throne. Kent declines, explaining that his master is calling him on a journey. Finally, Albany (in the Quarto version) or Edgar (in the Folio version) implies that he will now become king.
The Rivals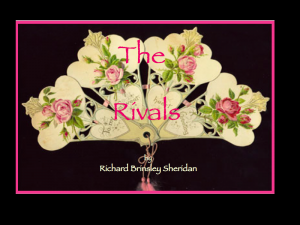 by Richard Blinsley Sheridan
July 7 – July 24


The play is set in Bath in the 18th century, a town that was legendary for conspicuous consumption and fashion at the time. Wealthy, fashionable people went there to "take the waters", which were believed to have healing properties. Bath was much less exclusive than London, and hence it provides an ideal setting for the characters.
The plot centers on the two young lovers, Lydia and Jack. Lydia, who reads a lot of popular novels of the time, wants a purely romantic love affair. To court her, Jack pretends to be "Ensign Beverley", a poor officer. Lydia is enthralled with the idea of eloping with a poor soldier in spite of the objections of her guardian, Mrs. Malaprop, a moralistic widow. Mrs. Malaprop is the chief comic figure of the play, thanks to her continual misuse of words that sound like the words she intends to use, but mean something completely different. (The term malapropism was coined in reference to the character.)
Lydia has two other suitors: Bob Acres (a somewhat buffoonish country gentleman), and Sir Lucius O'Trigger, an impoverished and combative Irish gentleman. Sir Lucius pays Lucy to carry love notes between him and Lydia (who uses the name "Delia"), but Lucy is swindling him: "Delia" is actually Mrs. Malaprop.
As the play opens, Sir Anthony arrives suddenly in Bath. He has arranged a marriage for Jack, but Jack demurs, saying he is in love already. They quarrel violently. But Jack soon learns through the gossip of Lucy and Fag that the marriage arranged by Sir Anthony is, in fact, with Lydia. He makes a great show of submission to his father, and is presented to Lydia with Mrs. Malaprop's blessing. Jack confides to Lydia that he is only posing as Sir Anthony's son. She annoys Mrs. Malaprop by loudly professing her eternal devotion to "Beverley" while rejecting "Jack Absolute".
Jack's friend Faulkland is in love with Julia, but he suffers from jealous suspicion. He is constantly fretting himself about her fidelity. Faulkland and Julia quarrel foolishly, making elaborate and high-flown speeches about true love that satirize the romantic dramas of the period.
Bob Acres tells Sir Lucius that another man ("Beverley") is courting the lady of Acres' choice (Lydia, though Sir Lucius does not know this). Sir Lucius immediately declares that Acres must challenge "Beverley" to a duel and kill him. Acres goes along, and writes out a challenge note – despite his own rather more pacifist feelings, and the profound misgivings of his servant David. Sir Lucius leaves, Jack arrives, and Acres tells him of his intent. Jack agrees to deliver the note to "Beverley", but declines to be Acres' second.
Mrs. Malaprop again presents Jack to Lydia, but this time with Sir Anthony present, exposing Jack's pose as "Beverley". Lydia is enraged by the puncturing of her romantic dreams, and spurns Jack contemptuously.
Sir Lucius has also learned of the proposed marriage of Jack and Lydia, and determines to challenge Jack. He meets Jack, who, smarting from Lydia's rejection, agrees to fight him without even knowing the reason. They will meet at the same time as Acres is scheduled to fight "Beverley".
At the dueling ground, Acres is very reluctant to fight, but Sir Lucius will have no shirking. Jack and Faulkland arrive. Acres learns that "Beverley" is actually his friend Jack, and begs off from their duel. However, Jack is quite willing to fight Sir Lucius, and they cross swords.
David informs Mrs. Malaprop, Lydia, Julia, and Sir Anthony of the dueling, and they all rush off to stop it. Sir Lucius explains the cause of his challenge, but Lydia denies any connection to him, and admits her love for Jack. Mrs. Malaprop announces that she is Delia, but Sir Lucius recoils in horror, realizing that he has been hoaxed. Sir Anthony consoles Mrs. Malaprop, Julia is reconciled to Faulkland, and Acres invites everyone to a party.